FIRE EXTINGUISHER SALES AND SERVICES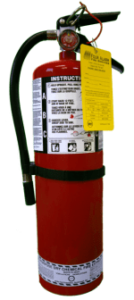 Residential, Commercial & Industrial we service them all!
Four Alarm Fire Services offers a full service fire extinguisher shop with a complete line of new and refurbished fire extinguisher cylinders, parts and services.  Residential, commercial or industrial clients are all welcome, our shop of fully equipped to take care of all needs.  Fleets, large facilities, remote sites to single residential units, Four Alarms service department has the ability to handle jobs of all scales.  Allow our trained technicians to preform your NFPA 10 annual extinguisher inspections and certifications, hydro static testing, six (6) year inspections and recharging.  We can perform our inspections onsite right at your facility or you can bring your equipment in to our shop.  Our wonderful staff is happy to assist you with your every service need.
Our full service shop offers sales and servicing for ALL MAKES AND MODELS.
Wet & Dry Chemical and Clean Agent Units
Extinguisher Accessory Sales
Extinguisher Part Sales
Hydrostatic Testing
Internal Inspections
Six (6) Year Maintenance
Fire Extinguisher Recharging
** ANNUAL CERTIFICATIONS **
Fire Extinguisher Rentals
Four Alarm has rental fire extinguisher units available for short and long term usage.  Have an event, festival or just need one for a short period of time that requires you to have extinguishers ed a cost effective solution?  We have multiple types and sizes available for all your hazard and time needs.  Contact our office today for availability and cost.
Refurbished Extinguisher Sales
Not only do we have a full line of new extinguisher units available we also have available many refurbished fire extinguisher units.  Fully serviced and compliant to Alberta Fire Code requirements!  You can now be compliant at a cost savings without having to compromise your safety and coverage.  Not necessarily picky about matching units or do not have a need for new?  Check out our refurbished units as a great cost effective solution.
 Experience and Innovation
The Four Alarm Fire Services extinguisher shop is a modern provincially certified fire extinguisher sales and service facility. Our highly trained and experienced technicians bring their experience and field knowledge to you. We can provide a complete and through overview of the layout, placement and usage of the fire extinguishers in your facility.  Giving you insights on modern suppression innovations and  equipment.
Our shop facilities are annually certified by Warnock Hersey (Intertek) under the registration number F350.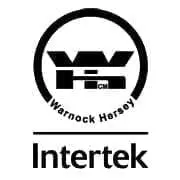 Watch for this logo, it is a symbol of an experienced, qualified and insured facility.  Rated to the highest standards of Intertek/Warnock Hersey.  Intertek is an organisation recognised by fire departments, municipal governments and other 'authority having jurisdiction' organisations.  Our certification allows us to assure you the best possible service available.
Our electronic records storage allows our staff full access to all equipment information and history.  This allows us to keep track of your equipment history.  Giving you the up-to-date information you and your facility need to stay complaint in the busy environment.  Four Alarm Fire Services has services to cover all your extinguisher needs.